---
Carbendazim is a fungicide used against a range of fungal diseases including Septoria, Fusarium and Sclerotina. It is moderately persistent in soil and can be very persistent in water systems under certain conditions.
Carbendazim is also a nematicide, which makes it highly toxic to earthworms, while moderately toxic to honeybees and most aquatic organisms. In addition, it has been reported as a reproduction or developmental toxicant.
Carbendazim is characterized as colorless crystals or gray to white powder. It is usually supplied as a soluble concentrate mixed with water and applied as a spray, as a drench, or pre-planting dip.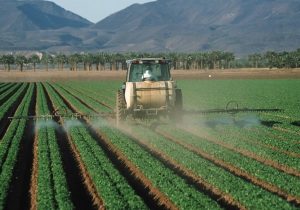 List of known side effects
According to the open chemistry database PubChem, carbendazim may cause genetic defect and damage fertility or the unborn child. In addition, the United States Environmental Protection Agency (EPA) has classified carbendazim as Group C: "Possible Human Carcinogen."
Body systems affected by carbendazim
Carbendazim poisoning may adversely affect the liver, kidneys, and spleen.
Items that can contain carbendazim
Carbendazim is applied to beans, Macadamia nuts, lentils, chickpeas, strawberries, sugarcane and cereal grains. It is effective against husk spot, chocolate spot, gray mold, green mold and crown rot.
Some related substances to carbendazim include epoxiconazole and flusilazole. It also goes by other trade names and synonyms, such as Bavistin, BCM, Benomyl, Carbamic acid, Carbendazime, Delsene, Derosal, E-965, Equitdazin, Karbendazim, Kemdazin and Pillarstin, among others.
The Pesticide Properties DataBase lists down some of the products that contain carbendazim as an active ingredient, such as:
Delsene 50 Flo
Harvesan
Mascot
Occidor
Ringer
Punch SE
Meanwhile, some examples of manufacturers that supply such products include:
AgriGuard
DuPont
Nufarm
Barclay
How to avoid carbendazim
Avoid products that use carbendazim as an active ingredient. Handlers, mixers and applicators of carbendazim may be exposed to its fumes in the workplace. The following are some protective measures to avoid any contact with carbendazim:
Use this material only in well ventilated areas. In case of accidental aspiration, leave the area of contamination and go to an open area with fresh air. Seek medical attention immediately.
Avoid contact with skin or clothing. Wear a protective suit, chemical-resistant gloves and safety footwear or safety gumboots. Remove any contaminated clothing item carefully. Rinse the contaminated part of the skin with soap and water.
Do not get this material in your eyes. Wear goggles or a face shield. In case of contact, remove contact lenses (if applicable), then rinse with running water for several minutes. Seek medical help at once.
Do not eat, drink or smoke near this substance. In case of swallowing any amount of carbendazim, give plenty of water to drink. Refer for medical attention immediately.
Refer to label instructions and workplace regulations regarding proper handling of equipment before applying chemicals.
Always keep any chemical separated from bases, food and feedstuffs.
Where to learn more
Summary
Carbendazim is a fungicide used against fungal pathogens such as husk spot, chocolate spot, gray mold, green mold and crown rot.
Carbendazim is also a nematicide, which makes it highly toxic to earthworms.
Carbendazim may damage fertility or the unborn child. The EPA has classified carbendazim as Group C: "Possible Human Carcinogen."
Sources include: